What can the diamond saw blade be used for cutting?
Views: 0 Author: Site Editor Publish Time: 2021-06-25 Origin: Site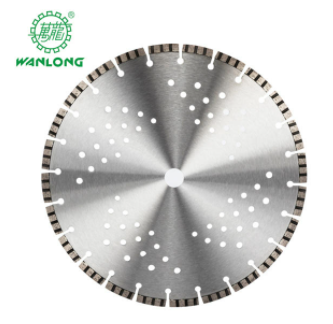 Among cutting saw blades, diamond saw blades are not widely used, mainly because of the relatively high price. However, the service life of diamond saw blades has always been favored by customers. The durability of diamond saw blades is mainly reflected in the fact that its cutter head is made of PCD diamond cutter head, which is wear-resistant and durable. What materials are generally suitable for cutting diamond saw blades?
Here is the content list:
l What materials can different diamond saw blades be used to cut?
l Take cutting concrete as an example to introduce how the diamond saw blade works?
l How to determine wet-cut concrete and dry-cut concrete with diamond saw blade?
What materials can different

diamond saw blades

be used to cut?
The maximum speed of diamond saw blades is 4500R/min, mainly for cutting wood, multi-layer boards, density boards, etc. Customers require diamond saw blades to be durable because they have a large amount of cutting in the factory. Diamond saw blades are generally used for cutting aluminum, cutting marble floors, wood floors, and so on. And because some woods have high hardness and many impurities, many manufacturers have to choose diamond saw blades for processing. It depends on the manufacturer's choice. If you remove the "shortcoming" of its high price, diamond saw blade cutting is the most durable.
Whether it is cutting control seams with a diamond saw blades, enhancing concrete with decorative nicks, or cutting existing concrete for repair or replacement, you cannot do this without a high-quality diamond saw blades. However, just like a chef who needs a variety of diamond saw blades to prepare a variety of gourmet specialties, you can't just rely on one blade to complete all these cutting tasks well, or even perform the same tasks in different types of concrete. .
Take cutting concrete as an example to introduce how the diamond saw blade works?
When performing clean, professional concrete cutting, diamond saw blades are usually the best choice. However, in this category, you will find a wide range of blade options with a wide range of prices. How do you choose the ideal diamond saw blades for the job at hand? In order to obtain the best cutting performance, understanding the working principle of diamond saw blades will help you choose a saw blade with suitable characteristics and cutting quality. These are the four basic components of the blade:
l Metal core, precision-designed steel disc with segmented rims that can hold diamonds.
l Synthetic diamond crystals, sharp cutting teeth penetrate the concrete.
l The matrix, a metal bond, holds the diamond particles in place until they wear.
l The weld that connects the cutting section to the core (most sections are laser welded or soldered).
How to determine wet-cut concrete and dry-cut concrete with

diamond saw blade

?
In general, the decision to use wet or dry depends on your preferences and job requirements. Dry diamond saw blades cutting eliminates wet mud and does not require water tanks and hoses to be installed on the saw. On the other hand, the use of a wet diamond saw blade can reduce dust, but it is necessary to contain or remove the slurry. For indoor work that needs to keep the work area dry, dry cutting blades and compatible diamond saw blades may be your only choice.
The main difference between a wet blade and a dry blade is welding. The dry cutting blade has segmented welds that are resistant to high temperatures and do not require water cooling. They are usually used for intermittent cutting and for handheld low-horsepower diamond saw blades. Wet cutting blades are usually used with a hand-held diamond saw blades to cut the joints in the cured concrete form because water cooling allows for deeper cuts. Although you can use most dry cutting blades with water, never use wet dry cutting blades for drying. Always use water to cool the blade continuously to avoid loss of line segments and warping of the blade.
When choosing diamond saw blades, it is recommended that you choose a large company with a good reputation, because the large company has a strong technical team, strict quality control and timely after-sales service. For example, Bandung Group (stone diamond tools and stone machinery) has been a manufacturer and exporter of stone diamond tools and stone machinery in China since 1993. Experienced technical team, professional service, stable quality will bring many benefits to your production!