WANLONG QUARRYING SEGMENTS
Views:0 Author:Site Editor Publish Time: 2022-01-01 Origin:Site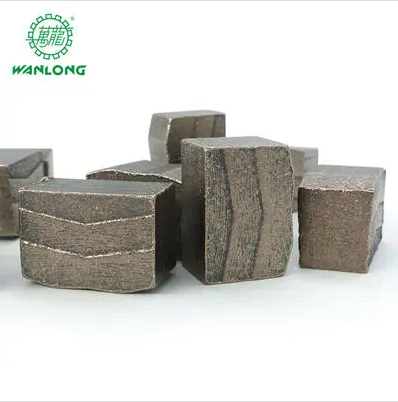 Fujian Quanzhou Wanlong Diamond Tool Co., Ltd. has been rated as one of the "Top Ten Enterprises" in the diamond tool industry for 10 consecutive years. WANLONG has been continuously committed to technical research and development and update of its products, investing tens of millions of R&D funds every year. Thanks to its good sharpness and lifespan, WANLONG Quarrying Segments have been recognized and highly praised by those who are in the stone industry domestically and abroad. In the year 2018, WANLONG Quarrying segments won the title of "China National Top Sales Products".
WANLONG Quarrying segments occupy a fairly high share in the domestic stone mining market. You can see the WANLONG quarrying segments in almost all stone mines in China. WANLONG quarrying segments have outstanding sharpness and lifespan, with its price ratio much better than that for same products from other stone quarrying segments suppliers.
Product Sepcification
There are 4 main Double-blades-Combinations: D2200/D3300, D2200/D3600, D2400/D3300, D2400/D3600
Detailed Parameters
Blank thickness
(MM)

Blanks Diameter
(MM)

Blanks tips
(PCS)

Segment Size

(MM)

9.5/10.0

2200

132

23*14/13*15

9.5/10.0

2400

136

23*14/13*15

9.5/10.0

3300

170

23*12.5/11.5*15

9.5/10.0

3600

180

23*12.5/11.5*15
There are 3 main Triple -Blade-Combinations: D2600/D3600/D4200,
D2600/D3800/D4600, D2600/D3800/D4800
Characteristics of Stone Quarrying Equipments
Quarrying Equipments: Double Blades Quarrying Machine
The headstock of such double-blade quarrying machine is directly connected, eliminating the requirement of replacing the belt daily, maximizing the effective power of the motor. Such machine uses the electronic control box of Siemens technology, with the microcomputer doing tracking automatically, reducing the speed automatically in advance when the motor is overloaded and the blade is clamped, eventually effectively preventing the risk of burning the motor due to the blade clamping, improving the lifespan of the motor, and greatly improving the production efficiency.
Quarrying Equipments in Market

Main motor power

(KW)

(RPM)

Characteristics

TYPE 1

55/75

120-130/100-110

New Four WD mechanism

Type 2

55/75

120-130/100-110

New Four WD mechanism

Type 3

45/55

120-130/120-130

New Four WD mechanism

Type 4

45

130-140

Two WD Two Axis Design
Performance of WANLONG Stone Quarrying Segments
WANLONG Quarrying Segment is suitable for granite, marble basalt, slate, sandstone quarrying. It is quite famous by the quarrying workers, thanks to its speedy, deep and long life cutting.
Advantage of WANLONG Quarrying Segments
1.Good Sharpness: speedy cutting, low current of the machine, mining blocks are square with good flat surface
2.Long Life: Reducing the times of blanks re-welding, maximizing the lifespan of steelblanks, achieving high cutting linear meters and eventually saving the mining cost for the quarry mining owners.
3.Good Adaptability: Suitable for different stone and various complicated mining environments.
If you want to know about our Diamond Wire Saw and Stone Cutting Machine products, please feel free to contact us.